Art Fair Vendor Booth Ideas and tips for Success
Art fairs are a place where art collectors, buyers, and enthusiasts come together to buy and sell contemporary artwork. They provide a space for people to experience art in a variety of ways and often include live music, food, and drinks. Some fairs also offer educational seminars and lectures on art and design.
There are many types of art fairs that cater to different tastes and preferences. Often, these are held at the same time as other art-related events, such as film festivals or gallery openings, which makes them even more attractive for visitors.
The goal of an art fair is to create an environment where people can buy, sell, and experience art all in the same place.
How much is a booth at an art fair?
A booth at an art fair can cost anything from $500 to $10,000. The price of a booth can depend on the size of the space, location, and amenities that come with it. This is why it is important to know what you are looking for in your booth before you start shopping.
If you are looking for a small space with affordable prices, then you should consider an art fair that is located close to your home. If you want to get exposure in other parts of the country or world then it may be worth paying more for a larger space at a more expensive event.
7 Overlooked Preparations for a Successful Art Fair
There are many things you can do to make this experience profitable for yourself and fun for the attendees. Here are 7 often overlooked art booth set-up preparations that can help you have the best art fair experience possible.
1. Practice Your Sales Pitch
Part of being personable is knowing how to answer those dreaded questions,
What kind of art do you make?
What inspires you?
How would you describe your work?
These are tough questions to answer, but you have a huge advantage in knowing that they are coming. Spend some time thinking about how to answer these challenging questions ahead of time. Don't miss out on opportunities to make connections with booth visitors that are expressing some interest in what you do.
2. Perform a Live Activity at your Art Booth to Attract Attention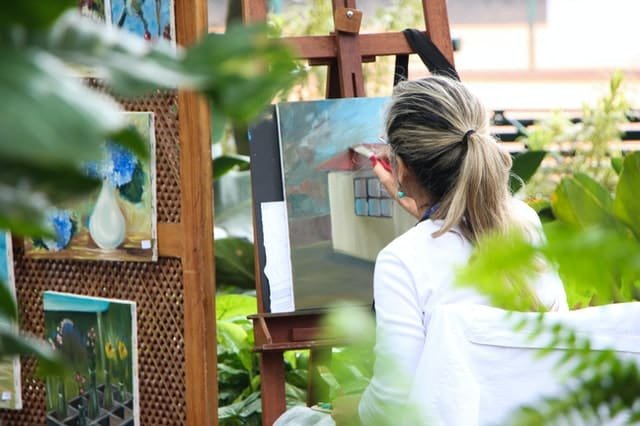 Take your booth to the next level by working on your art in front of an audience. This is a great way to create a buzz and attract people to your stand. By showing an art piece in progress, prospective customers can connect more easily with you and makes your art more accessible. It's a great way to turn passersby into new fans of your work.
This is a time-tested and proven way of attracting attention to your booth. This tactic can be used by artists, designers, photographers, and more. When it comes to visual art, the more eyeballs on an item the better.
3. Bring an iPad or tablet so you can show off your Online Art Gallery.
Without a proper art gallery website, your success is limited to what you can sell at the art fair itself. It may not be possible to display all your work at your booth so allowing visitors to browse your work via your online gallery, allows for more interaction with prospective customers, and potentially more sales.
An iPad or tablet becomes a digital portfolio for artists. They can showcase their work and even open up videos and websites on the device for customers to see their process and other works.
4. Offer a Range of Products at Different Price Points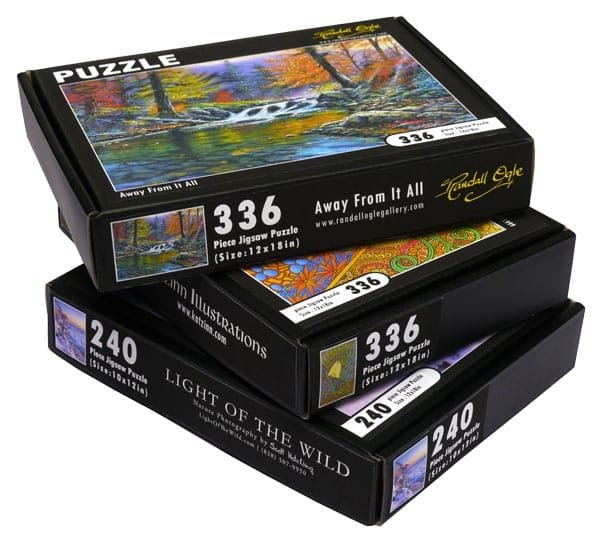 All types of people walk around art fairs so the more choice of art products you can offer them, the more sales you will make. There is only a limited number of people that want to buy originals or prints so if that's all they see at your booth, you are limiting your potential to make sales.
Artists should offer a range of art-based products to their booth visitors. This will allow them to reach different customers and people with different price points. Offer your art in other formats such as Greeting Cards or Jigsaw Puzzles to widen your appeal to a broader set of people and watch your sales take off.
5. Bring a Camera
In this new connected world, it's a great idea to have some photos taken of your art booth display. This is excellent content for your social media or your blog posts. If your camera is capable of taking video, then shoot a short clip and post it on youtube and Facebook with a link back to your online gallery or blog.
If you are lucky enough to make a few sales, ask your customer if they would mind you taking a photo with them for your Facebook page. Take advantage of these opportunities to create an online buzz. The more content you can generate around your art and brand, the more interest you will generate from engaged visitor and customers.
6. Run a Raffle or Small Giveaway
Create some interest at your art booth by running a raffle for a small giveaway like an art print or Art Puzzle. People always like the chance to win something, and it's a great way to get signups for your email newsletter! It's also an excellent way to start a conversation with people who visit your stand by inviting them to participate in the raffle. A raffle is a great way to attract interest in your art booth and engage with people interested in your art.
7. Email your New Leads after the Art Fair
Sending out an email follow-up the next day after the show has finished is a great way to reach out to new prospective customers. In the email, thank them for visiting your booth and inviting them to check out your online gallery. It's essential to make sure people remember you and have a way to contact you in the future.
Selling art is the same as selling anything else of value. In most cases, a sale does not happen during the first interaction with a person. The first contact is usually exploratory, with the seller using it to gauge interest and the buyer using it to explore options. During this exploration, each side can determine whether or not they are willing to make a commitment to explore more. Sales success involves multiple touchpoints and interactions before a prospect makes the decision to purchase.
Email is therefore a valuable tool to keep you and your art in front of a prospective customer and continue a relationship.
In Conclusion
Adopting the above art fair booth ideas will help you promote your brand as an Artist, get exposure for your artwork, and contribute to a successful and profitable art fair.
Art Fair Booth Ideas – 7 Often Overlooked Preparations for a Successful Art Fair