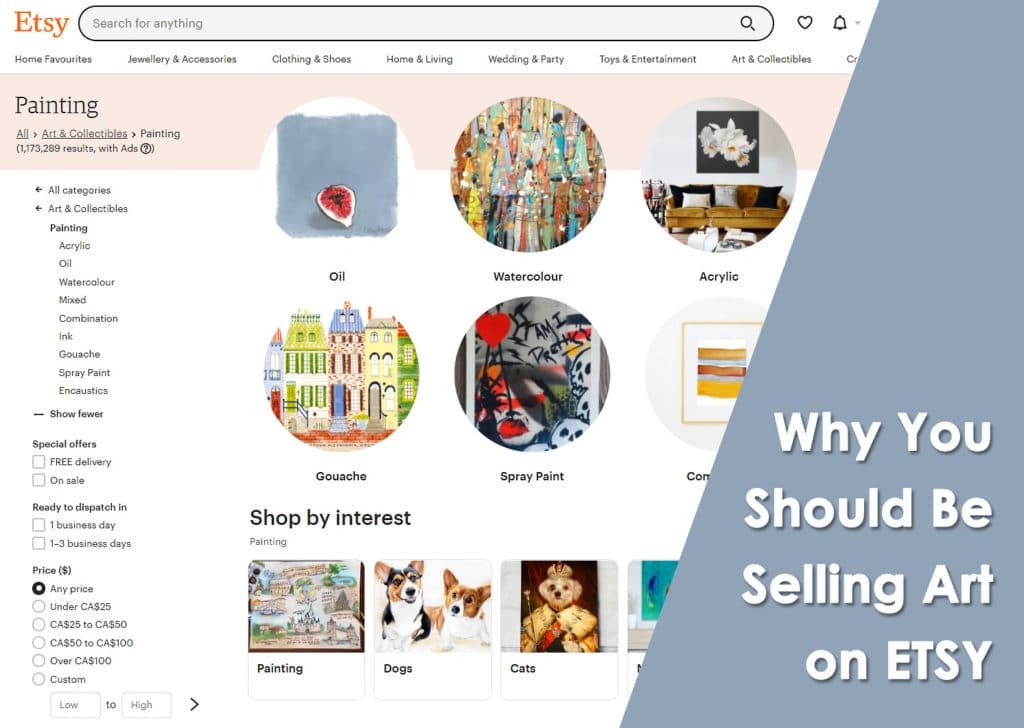 Selling art online is a business just like any other business. You need the right tools and systems to run your business efficiently. Every Artist that is selling art online needs a digital shop front. A place on the internet where prospective customers can view their art pieces for sale, ask questions, generally correspond with the Artist, and ultimately buy and pay for their art purchase.
You can of course build your own web store or online gallery using tools (apps) such as WordPress, Shopify, or any of a multitude of other digital storefronts. There are benefits to each of these tools, but they all lack one thing. None of these solutions give you access to an existing art marketplace with exposure to many thousands of buyers. If you are going to invest your time and effort in establishing your own online Art store, Etsy is a good choice that comes with a built-in audience.
Just how big is the Etsy Marketplace?
Find more statistics at
Statista
Etsy is a global marketplace where people buy and sell handmade items. It was founded in 2005 by Rob Kalin in his Brooklyn apartment, has over 89 million active buyers, and attracts over 289 million visitors on average each month making it one of the world's largest e-commerce sites. Users pay to list their items on the site, which helps keep its prices low for sellers and buyers alike.
With a creative community of independent artisans, Etsy has many Artists selling art on Etsy. It's a easy, convenient and low cost way to display your art and sell directly to art buyers online. It is a great place to find people who love your work and want to buy it.
How does Etsy work for Artists?
At its core, Etsy offers Artists two things:
1. An Online Store with all the tools required for displaying and selling your art. This includes:
2. An Art Marketplace that attracts millions of visitors per day.
Trusted by millions, people feel safe to order items on Etsy. It's like having your art store in the center of a very large shopping mall that attracts thousands of customers every day.
Bottom line is that Etsy is popular with artists because it allows them to be creative without having to worry about the logistics of running their own business. Selling your art on Etsy is easy but making a living only from the Etsy marketplace is much more of a challenge. You still have to work hard for every sale.
How to Integrate Etsy into Your Art Business
In simple terms, Etsy functions as your online shopfront and back-office administration system. While Etsy does provide some options to market and promote your art, it does not replace being active on social media. Here is a diagram showing how Etsy can integrate with your art business.
Your website and social media accounts are essentially content networks all designed for the purpose of communicating with your current and future customers.
Listing your art for sale on Etsy allows you to post links to your Etsy Listing giving visitors the opportunity to view and purchase your art and related products. These links drive your target visitors to your Etsy art store.
What's Misunderstood About Etsy
If your expectation is to set up a new Etsy store, list your art for sale, and immediately see a regular flow of orders then you will be disappointed. Etsy alone will not get you rich any time soon.
Selling art on Etsy is, however, an efficient and reliable way to run your art business, and at the same time establish yourself as a successful artist. To take advantage of the Etsy marketplace requires that you establish a history of successful sales, build up a reputation with positive customer reviews, and develop a following on Etsy.
When working with Etsy, it is a good idea to consider the following:
How to Establish Yourself on Etsy and Maximize Your Income
Study Your Competitors – Analyze the Etsy listings of other Artists who sell similar work to your own in terms of size and medium so that you can get a better idea of what does sell and what doesn't. Take a look at your competitor's pricing also. You will want to ensure that your pricing is in line with other art being sold and not overpriced.
Build a Brand for Your Shop – Whether or not you choose to sell art prints or printables, your Etsy shop must have a cohesive and consistent brand identity. Your customers shop with their eyes and if it is not visually appealing it won't be long before customers begin to shop elsewhere. You need to pay attention to branding. Your brand is more than just your logo or color palette. It's about you as a creative person, your personality, your inspirations, and ultimately your art. Your brand should resonate with your customers and inspire loyalty.
Deliver Value for Money – There are two ways that buyers perceive value: tangible and intangible. The tangible component includes things such as the quality of art paper used, and the uniqueness of design elements found on each piece. The intangible component includes things such as brand image, word-of-mouth recommendations, and the number and quality of reviews left by past shoppers. Shop owners can provide more value through these components by providing high-quality art products at reasonable prices with generous shipping options. Reputation is everything when selling on Etsy. Be honest and polite, be proactive in approaching happy customers for reviews to build trust.
Personalize Customer Service – Keeping your customers happy will inspire loyalty and turn many of them into repeat buyers. Etsy provides all the tools for you to make a personal connection with your buyers. Being responsive to customer questions goes a long way to building trust. Always be polite and positive in your communications showing that you care and understand. Etsy provides all the tools necessary to manage your customer communications.
Provide Plenty of Product Options – If you are looking to attract a wide audience, you need to offer a variety of products at different price points that feature your art. Selling original art and limited edition prints is fine but customers may also be looking for gift items featuring your art. Jigsaw Puzzles are an attractive option for Artists – see our post "Think "Inside the Box" to Sell More of Your Art". Providing different product options increases your likelihood of making a sale.
Schedule the Listing of your Art Over Time – It's a feature of the Etsy system that new listings are always featured at the top of the corresponding section for a short period of time. By scheduling the posting of new art pieces over time, you can be ranked at the top multiple times, allowing you to reach a wider audience. Time the adding of new art pieces to Etsy at peak visitor times. Many Etsy users report that they get the most exposure in the first few hours of posting.
How to Showcase Your Art on Etsy and Stand Out from the Crown
Alright, so you have signed up for Etsy, established your profile, and are about to start listing your art for sale. What can you do to make your art stand out from the crowd?
Selling Art on Etsy Q & A
Is selling art on Etsy worth it?
I'm sure you know already that Etsy allows sellers to set up galleries of their work. The gallery feature is a huge boon to artists who are just starting out as they can get their work in front of potential buyers without having to deal with the hassle and expense of running an independent website. It also helps established artists who have been around awhile and had some momentum behind them.  For instance, if you're selling art prints (and you should be!), it's important to show your best work in your gallery so that people can see what you do well!
How does my artwork sell on Etsy?
Etsy has over 250 million unique visitors per month across all platforms including desktop browsers, mobile devices, tablets, and even smart TVs. That means there are lots of people browsing Etsy looking to buy art.  
When you're starting out on Etsy it's important to have a clear idea of what your audience is looking for and how much they are willing to pay for it.  Analyzing other Artists selling on Etsy will give you a good idea of what type of art and art products to sell and at what price point.
Why am I not getting sales on Etsy?
If you're not selling anything on Etsy, it's likely because you haven't promoted your store to attract buyers. Don't expect Etsy to deliver visitors to your digital door. There are many ways to promote your Etsy listings such as posting on Social Media, printing your store URL on your business cards and other promo material, paying to promote your listing on Etsy Marketplace, etc.
How to make money selling art on Etsy
The simple answer is to find out what type of art or art products sells best on Etsy and list similar items for sale at an attractive price. Esty displays the number of sales an Artist has made and the number of reviews they have received. It's a great idea to read through some of these reviews and try and identify trends and opportunities. Also, look at current trends in art and lifestyle. During the pandemic, Jigsaw Puzzles became a hot seller and still remain so today. Relatively few artists take advantage of this trend.
How does Etsy work for artists?
Due to the visual nature of your work, artwork is well suited to be sold online. Etsy works well for Artists as it offers a range of digital tools to list, manage and sell your art. It also gains you exposure to a large number of buyers many of whom buy art on a regular basis. As this article details, Etsy is an easy and cheap way for Artists to get up to speed quickly selling their art.
Why You Should Be Selling Art on Etsy!