Selling your artwork is all about getting it in front of people and finding ways for them to spend their money and take some of your art home with them. Only a small percentage of people are interested to buy original pieces or even high-quality prints. To maximize your income, you need to offer your art in ways that give people a reason to buy.
Give some thought to what products you can sell that people are interested in, but also products that effectively promote your art. Products like calendars, cards, note pads come to mind but have you thought about selling your art as Jigsaw Puzzles?
Make and Sell Jigsaw Puzzles Using Your Art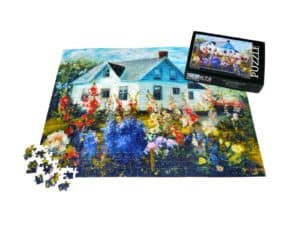 Jigsaw Puzzles are as popular today as they have ever been. Nearly every book store, gift store, and museum shop has them for sale, and for good reason. People buy them! They appeal to all age groups and nationalities, offer hours of entertainment, and have no need for instructions.
A puzzle is an easy sell at art shows or festivals to people who love your art, but does not want to buy, or can't afford an original painting or print. In many cases, Jigsaw Puzzles are purchased as gifts for art lovers and offer a low-cost way for art show visitors to take home a piece of your art.
Investing in a stand at an Art Show is a great way to promote yourself and your art, however selling enough original art is make the stand pay for its self, and make a profit is not always easy. Extending the range of products you sell that promote your art is a great way to earn additional revenue.
Increasing The Value of an Art Puzzle
Selling your artwork as puzzles in many ways is similar to selling prints. Typically, Art Puzzles sell from between $15 to $25 each. You can also increase their perceived value by following the same methods that you apply to sell prints – namely:
Make them exclusive,
Limiting their number. and
Personally, signing each puzzle box
This is a great way to differentiate your puzzles from the mass-produced puzzles you find in the box stores.

The Branding Benefits of Puzzles
Producing your own range of Art Jigsaw Puzzles also offers a great way for you to brand yourself. Typically, most Art Puzzles will have the name of the Artist, their photo, and a short profile of them printed on the puzzle box. What a great way to promote yourself as an Artist.
Puzzles also don't have to all be large complicated 1000 piece challenges. Some Artists produce their bio as small postcard-sized puzzles of 12-24 pieces. The front of the puzzle shows a piece of their art, while the reverse side has a small flyer presenting their artist's profile. These can either be sold as products or handed out to visitors. They are low-cost to produce and a great way to highlight your art.
Sourcing Custom Printed Puzzles Made from Your Art
Launching your own range of puzzles featuring your artwork is easier than you may think. Websites like PuzzlesUnlimited.com specialize in offering high-quality custom printing of Jigsaw Puzzles and do all the hard work for you. With small minimum quantities, which allow multiple images, it's easy to test out your market for puzzles with low investment and minimal risk.
The hard part is deciding which of your art pieces translate well into puzzles. Keep in mind that puzzle buyers like artwork with lots of color and detail – they are looking for a challenge, something that will keep them interested. Art that has lots of white background, or large areas of a single or very similar colors are probably not good choices.
Visit PuzzlesUnlimited.com and find out how to make and sell Jigsaw Puzzles using your artwork. Ask about their free "3D Puzzle Box" preview service. It offers a great way for you to see how your artwork would look like on a puzzle before having to make a commitment of any kind.
Selling Your Artwork – Think "Inside the Box" to Sell More of Your Art