So, you've been trying to find the best artist websites, you've taken a brief tour of Google, Yahoo and Bing and now you're hoping to find that elusive treasure; the perfect art or photography website to do justice to your amazing art and guess what? You still haven't found a gallery website to write home about. Let's see if we can offer you a realistic appraisal of what's out there; the good, the bad and the ugly of artist's websites.
There are many Free Art Websites available on which to advertise and promote your work. Depending on your personal preference(s) they all have something good to offer. Depending on your art, some might be better than websites for artists. You really need to do your homework to find the right fit(s) for you and your work. What follows is a list of sites worth your consideration and investigation. Happy website hunting!
InterArt Centre
interartscentre.ca
Canadian based and hosted by Yahoo this site provides free membership and appeals to digital artists, photographers, web and graphic designers, illustrators, and animators from around the globe. Currently it draws 50 million page views a year.
Monkdogz Urban Art
www.mzurbanart.com
Housed in the New York City art district, this is an art gallery and more. Much more. Its mantra is to showcase today's new artists from around the world. Disciplines include painting, photography, prints and video. They also maintain a network of some 2,000 artists allowing them to exhibit their work and link their own web sites.
Art.Net
www.art.net
With more than 450 creatives; painters, musicians, animators, poets, and sculptors, this worldwide and award winning site averages 65,000 page views a day with over 14,000 unique visitors. They actively defend the right of free speech on the internet and have been involved in several successful court battles voicing their social conscience.
Free range Art
www.fuseboxfestival.com/freerangeart
Originally a small Art Fair to showcase art and interiors, design, and photography, this gallery has grown into one of the worlds largest Art Fairs covering 45,000 square meters. Thousands of exhibitors are displayed in their catalogue and on their website. This free platform gives artists, past and present, the opportunity to showcase their talent throughout the year. It has been described as the best opportunity to uncover tomorrows talent at today's prices.
Artvalue.com
www.artvalue.com
If you are wondering what to list your art for, what price it might fetch at auction, then check out this free site. It lists auction sale prices for over 2.5 million art and antique pieces and can be used to measure the current value of your art creation.
The above represents but a few of hundreds of websites to sell your art. Here are some more to consider in your search for more art sales…
Behance
Wetcanvas
Redbubble
Etsy
Devientart
Myartspace
Imagekind
Artistrising
Yessy
Artfire
Fineart America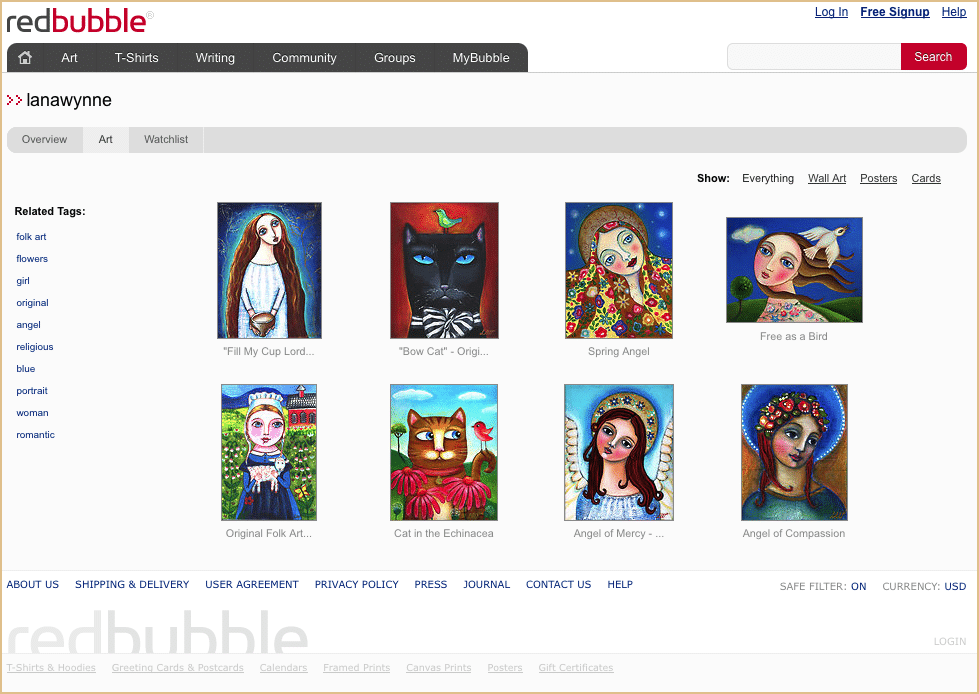 All of these sites are free to become a member and display your artwork. Some will charge a small fee to upgrade your listing and another fee once your product has been sold. If you're searching for our list of ugly artist websites then this is as close as you'll get; any cost associated with marketing and selling your artwork is a necessary evil and downright ugly in my book but sometimes even ugly can turn to gold with the right approach so paid sites have been left for you to view and do with as you will. After all, these costs may be part of your consideration as to what site fits best with you and your art.
In any case, whatever you choose and that could mean several sites your reach into the art buying community has the potential to capture the interest of hundreds of thousands of buyers. Shop well and enjoy the fruits of your best efforts when you find your perfect artist website.
Artist's Websites – The Good, The Bad, and The Ugly