You've launched your art website, began an art blog, and established a number of social media accounts; now you're questioning how to develop your audience. As an online art sales newbie, it can be frustrating learning how to sell art online and make money. The entire idea of getting traffic to your art listings and building an audience is a big secret that no one has let you in on. Or possibly you have been attempting to sell your art online for a year or more and are struggling to get more than a handful of visitors every week.
Making Money Selling Art Online – 6 Fundamental Strategies
It can be frustrating when you attempt different art marketing strategies, and nothing appears to be working for you. "What's going wrong?" you might ask. More than likely, you're not doing anything wrong. There's no one quick-fix solution to increase your online art sales. The secret is figuring out the best formula for you and your unique style of art. What works for me might not work for you.
When you are starting out, it's best to try a number of different marketing methods and see what works. It's important to monitor the success of each of these methods so you can find and scale up the winners.
1. Define Your Brand
Creating a brand around yourself is all about making you and your work memorable. Prospective customers need to know who you are and what your art stands for. The more they can connect with you and your art, the more likely they are to want to buy your artwork. To start defining your brand, you need to think differently. You are not just an artist – but a business as well. Developing Your brand is about people recognizing YOUR art, with an emphasis on the word "Your."
Start by answering these questions:
Who are you as an artist?
What do you stand for?
What message does your artwork convey?
What does your art mean to you?
How is your art unique?
Think about how your art is distinctly different from the work of others. This will help people relate to you and your artwork on a more personal level. The more prospective buyers can connect with you and your art, the more likely they are to want to buy your artwork.
2. Artist Statement
An artist's statement is a general introduction to your work. It is different from a bio, which can focus more on your history, representation, awards, and so on. A good statement provides context to your art by enhancing the way a viewer looks at it.
A short and powerful statement has several advantages. It can easily be printed on a postcard or flyer and can be memorized to be repeated in conversations with others about your work. The attention span of the average person is short these days and a short statement is easier for people to decide easily if we want to learn more.
3. Establish a Blog and Post Regularly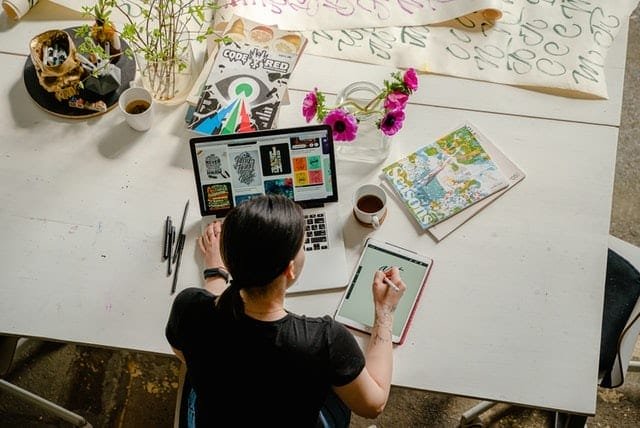 To get found online, you need to be visible on Google. Written content is the fuel that powers these platforms so to drive traffic to your site, and you need to be publishing articles regularly. Committing some time to update your artist blog every week will pay dividends over time.
The more content you publish to your art blog, the more likely visitors are to find you. Regular blog posts can also be shared across social media further driving traffic to your site. Don't know what to write about? Do a Google search on "blog topics for artists" for some inspiration.
4. Construct Your Email List
Your e-mail list is arguably the most important asset you have as an artist. If you're serious about marketing your artwork, then you need to build an email list.
When someone agrees to have their name added to your email list, it shows that they trust you and are interested in what you have to offer. If they want you to keep in touch with them, there is a good chance that they'll buy something from you in the future. Building your e-mail list should be a leading priority for your art marketing strategy. A well-managed and engaged email list will deliver a higher number of sales than any other form of social media.
5. Promote Your Art On Social Network
Social networks are excellent tools for you to connect with your target market and develop your brand and online presence. It can also drive significant traffic to your website and help you get email list signups. First off, you should create a Facebook page around your artist brand and post both your content and share other people's content to this page. This is a great way to start a following and share your news. Next, look at establishing a presence on Instagram. You can post the same content across all these platforms to gain more exposure.
Ideas for post topics include announcements of work that you have recently finished, shows that you plan to attend, recent art sales, commissions, products you sell incorporating your artworks such as Jigsaw Puzzles, etc. Make sure you include your social media account information on your website and print it on your business cards.
6. Be Active On Pinterest
Pinterest is an excellent platform for you to develop your brand name and increase your art sales. According to Pinterest, 83% of weekly Pinners have bought based on Pins they saw from brands? Being highly visual, it is the perfect place to promote your art and find an audience of people who are interested in it. It's free to join and easy to update with your content. Each post (or pin) you make is linked back to your blog or gallery site helping build brand awareness and drive traffic and customers to you.
Like most good things, learning how to sell art online and make money is worth the time and effort. Following the strategies detailed above will gain you exposure and set you up online to becoming a successful artist.
How to Sell Art Online and Make Money